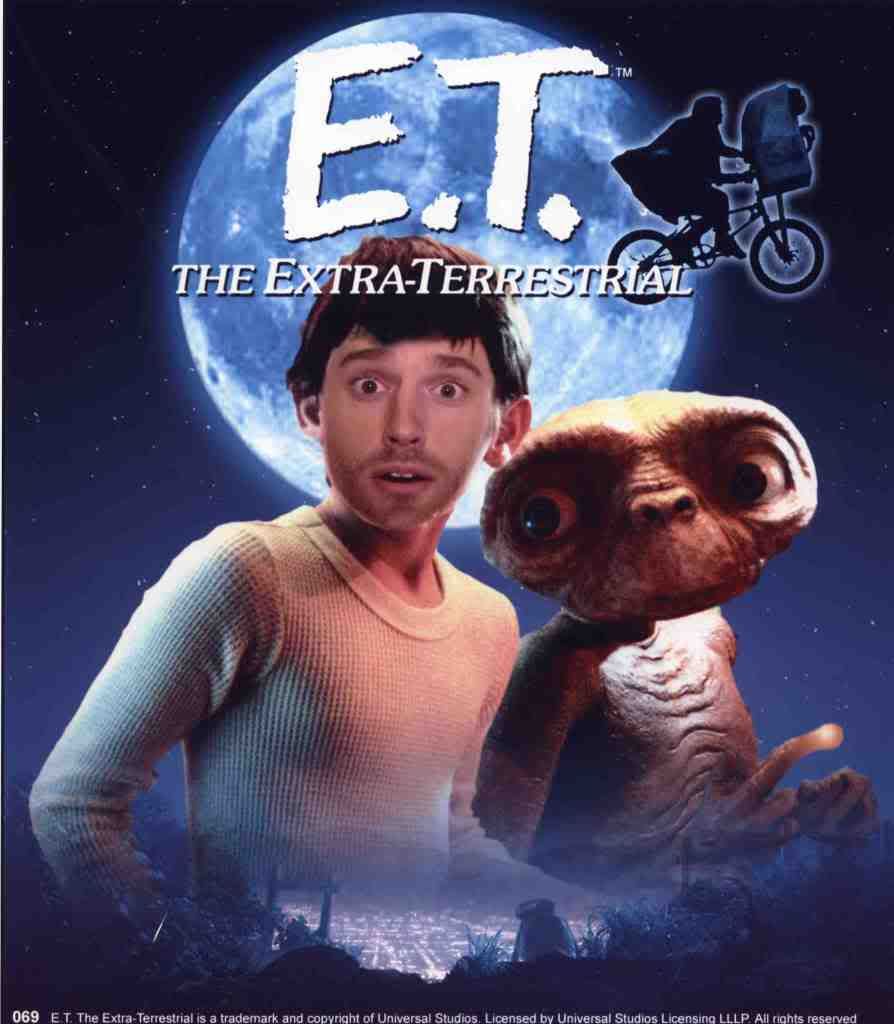 So, I finnally found a picture with which I can post on the family blog site. Having no digital camera I had to scan this one in. I thought a post without a picture would be boring and might as well be an e-mail. This pic is a memento of the New York/D.C. trip Dad, Mom, Jenny, Amy and I took and the end of the summer. When touring the NBC studios we had the chance to digitally put our faces on a movie poster. Jeff and Jenny replaced Hugh Jackman and Kate Beckinsale respectively in Van Helsing, and I replaced Henry Thomas in E.T. Prolly shoulda shaved...
The trip was fun, y'all missed out. Jenny's blue brained travel itinerary left nary an idle moment and Jeff and Justin's B and B services came off like a family sleepover, rather than cramped as we had feared. Dad's travelogue covered most of the highpoints. Just to fill in the gaps, he forgot Alice drawing pictures for me in church, smores in Justin backyard, Mcdonalds inside the Pentagon, The bus driver hitting a lamppost just before embarking, and practically running through the Museum of Natural History to see it all before they closed.
In New York there was the 8 ppl: 1 bathroom ratio, more wads of gum than I'll ever again see on the floor of just one subway station, searching the stands at the US Open to find Justin's bright yellow shirt, crazy ladies getting thrown out of the Red Sox/Yankees game, picking up other ppls empty alcohol receptacles for souvaneers, the coolest musical in the cozyest theatre I've ever seen, Mom forgetting her purse at Jeffs and having to take a later bus with Dad, a political discussion with New Yorkers on Barack Obama in the subway, a tennis discussion with Texas female sycophants also in the subway, running across the Brooklynn Bridge, and Ice cream on a pier along the river with a huge artificial waterfall in the background.
All in all, great trip. Just what I'd always wanted, without ever knowing it. Thank-you to everyone involved for letting me tag along last minute like.
Since it took me so long to post I also had my Birthday. It was cool, even though I had been dreading it. My friends bailed me out of an evening alone with my dark thoughts and the next day J.J. made me dinner, and the sweetest cake you've ever seen. Three snickers mini's each with a candle jammed in them, side by side in a cupcake foil. Truly an oiginal. I got a pic but it's on my phone and I can't upload it. Sorry this was so long, being my first post I had a lot to say.
lata - Jordan